Books:
TRANSGENDER EMERGENCE:
Therapeutic Guidelines for Working With Gender-Variant People and Their Families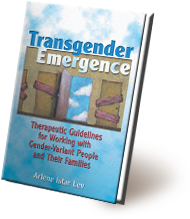 Explore an ecological strength-based framework for the treatment of gender-variant clients!
This comprehensive book provides you with a clinical and theoretical overview of the issues facing transgendered/transsexual people and their families. Transgender Emergence: Therapeutic Guidelines for Working with Gender-Variant People and Their Families views assessment and treatment through a nonpathologizing lens that honors human diversity and acknowledges the role of oppression in the developmental process of gender identity formation.
Transgender Emergence is the winner of the American Psychological Association (Division 44) Distinguished Book Award, 2006.
New Edition Coming Soon!

"The book offers a clear, comprehensive, and cogent review of the mental health field's thinking about sexuality and gender, and an extraordinarily thoughtful and extensive exploration of assessment and intervention issues with gender-variant people and their families. Lev's knowledge of the subject is phenomenal, and the breadth and clarity of her writing are brilliant. This book lays out an enormous amount of complex material in a highly readable and useful text."
Monica McGoldrick, MSW, Director, Multicultural Family Institute
---
THE COMPLETE LESBIAN AND GAY PARENTING GUIDE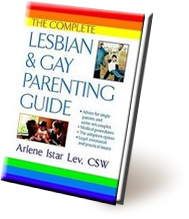 How Queer! A parenting book for LGBTQ parents!
Gay parenting is a productive and positive decision, but author and lesbian mother Arlene Lev admits it isn't always an easy one. With practical wisdom and advice, and personal real-life stories, Lev prepares gay parents for this endeavor with everything they need to know and everything they can expect while making their own significant and challenging mark on family life in the 21st century.

"Finally a handbook for lesbian, gay, bisexual, transgender parents that addresses the real struggles and joys our families face. The Complete Lesbian and Gay Parenting Guide is both deeply serious, and belly-laugh funny, while remaining filled with useful advice and heartwarming personal stories."
Rosie O'Donnell
---
Web Sites, Articles, Essays, and Interviews
Web Sites
Lev, A., Alie, L., Ansara, Y., Deutsch, M., Dickey, L., Ehrbar, R., Ehrensaft, D., Green, J., Meier, S., Richmond, K., Susset, F., Winters, K. (2010A). "Statement on Gender Incongruence in Children in the DSM-5," Professionals Concerned With Gender Diagnoses in the DSM
Articles
VillageQ Advice: Dear Ms. Radcliffe #1: Same Sex Parents in Pictures. VillageQ, March 9, 2015
Transparenting, Chronogram, November 1, 2014
Gay Parents and Gender-Bending Children, The Advocate, July 11, 2006
Scrutinizing would-be parents originally appeared in Washington Blade
Invisible Genders in In the Family Magazine, November, 1998
Couples in Transition: When one is trans and other is not (PDF) In the Family, 8, #4, pp. 18-23. 2003
Transgender Emergence: A Family Affair, (PDF) published in the Division 44 Newsletter: Society for the Psychological Study of Lesbian, Gay, Bisexual, and Issues: A Division of the American Psychological Association, Summer, pp. 11-12, 2005.in Division 44, the APA LGBT Newsletter
Lev, Arlene Istar, Transgender Emergence: Understanding Diverse Gender Identities and Expressions, NASW Focus,

Continuing Education curricula

, pp. 11-18, 21, 24, February, 2006
No Place Like Home (PDF) in Jess Wells (Ed.) HomeFronts: Controversies in the Nontraditional Parenting Community, LA: Alyson Publications, 137-156, 2000
Tenuous Alliance in A.E. Anzaldua and A. Keating (Eds.) This Bridge We Call Home: Radical Visions of Transformation, NY: Routlege, 473-482, 2002
Lev, Arlene Istar Lesbian and Gay Parenting in

Alternative Family Magazine

, Van Nuys, CA, November, 1998
Transgender Lesbians, (PDF) In The Family Magazine, 1998
GLBTQ Encyclopedia
The following articles were available on the LGBT Encyclopedia website, which has now been archived here.
Essays
Interviews
Media

Transgender Woman Shares Her Journey, by Rhonda Triller in The Post Star, April, 2016
Transparenting  by Hillary Harvey in Chronogram, Nov. 1, 2014
Four myths about Children of Same Sex Parents by Carol Castro in Superinteressante magazine, February, 2012
NOTE:Original article appeared in the Portugese language. English translations below.
"Se você cresce com dois pais do mesmo sexo e vê amor e carinho entre eles, você não vê nada de estranho nisso", conta Arlene Lev, professora da Universidade de Albany.
TRANSLATION:
If you grow up with same sex parents and see how much they love each other and how affectionate they are, you won't think anything of it (or you won't think it's strange at all)."Crianças criadas por gays são menos influenciadas por brincadeiras estereotipadas como masculinas ou femininas", diz Arlene Lev.
TRANSLATION:
Children raised by same sex parents are less likely to engage in gender stereotypical play.
Therapists help transgender patients with psychological issues by Paul Grondahl in the Times Union, December 9, 2011
New Challenge for Parents: Children's Gender Roles by Jan Hoffman in the New York Times, June 10, 2011
Controversy Continues over APA and Gender Variance by Renee Baker in the Dallas Voice, March 11, 2010
Creating the DSM by Todd Melby in Contemporary Sexuality, Newsletter of the American Association  of Sexuality Educations and Counselors March, 2009
DSM Controversy Could Overshadow Opportunities & DSM Section 302.85 by Zak Szymanski in The Bay Area Reporter May 29, 2008
When She Graduates as He by Adrian Brune  Boston Globe April 8, 2007
---
Journal Articles:
---
Monographs: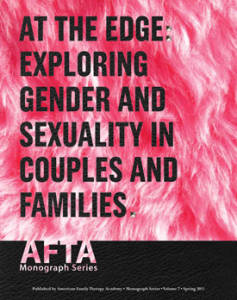 At the Edge: Exploring Gender and Sexuality in Couples and Families
FTA Monograph Series, Vol. 7, Spring.
The AFTA Monograph Series. One theme-based, guest-edited issue each year features original work by AFTA members who are leaders in the field.
Guest Editors: Jean Malpas, LMHC, LMFT & Arlene (Ari) Istar Lev, LCSW-R, CASAC
Download here.
---
Columns:
In a Family Way
In a Family Way is a column that ran from 1996 through 2009 in numerous magazines and
on-line, recording the antics of a lesbian parent rearing two young boys.

Dear Ari 
Dear Ari is an advice column written for LGBT Parents, and has been published in a number of publications, on-line and in print.

Essays, Reviews, and Commentaries 
These essay, book and movie reviews, and commentaries have been published in various magazines, journals, on-line websites, blogs, and books.

Family Matters 
Family Matters is long essay on LGBT parenting, that is published in The Journal of GLBT Family Studies.