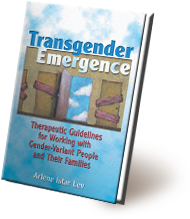 Explore an ecological strength-based framework for the treatment of gender-variant clients! This comprehensive book provides you with a clinical and theoretical overview of the issues facing transgendered/transsexual people and their families. Transgender Emergence: Therapeutic Guidelines for Working with Gender-Variant People and Their Families views assessment and treatment through a nonpathologizing lens that honors human diversity and acknowledges the role of oppression in the developmental process of gender identity formation.
Transgender Emergence is the winner of the American Psychological Association (Division 44) Distinguished Book Award, 2006. New Edition Coming Soon!

"The book offers a clear, comprehensive, and cogent review of the mental health field's thinking about sexuality and gender, and an extraordinarily thoughtful and extensive exploration of assessment and intervention issues with gender-variant people and their families. Lev's knowledge of the subject is phenomenal, and the breadth and clarity of her writing are brilliant. This book lays out an enormous amount of complex material in a highly readable and useful text."
Monica McGoldrick, MSW, Director, Multicultural Family Institute
---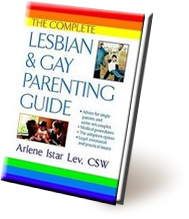 How Queer! A parenting book for LGBTQ parents!
Gay parenting is a productive and positive decision, but author and lesbian mother Arlene Lev admits it isn't always an easy one. With practical wisdom and advice, and personal real-life stories, Lev prepares gay parents for this endeavor with everything they need to know and everything they can expect while making their own significant and challenging mark on family life in the 21st century.

"Finally a handbook for lesbian, gay, bisexual, transgender parents that addresses the real struggles and joys our families face. The Complete Lesbian and Gay Parenting Guide is both deeply serious, and belly-laugh funny, while remaining filled with useful advice and heartwarming personal stories."
Rosie O'Donnell