In a Family Way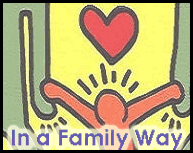 In a Family Way is a column that ran from 1996 through 2009 in numerous magazines and
on-line, recording the antics of a lesbian parent rearing two young boys.
Dear Ari 


Dear Ari is an advice column written for LGBT Parents, and has been published in a number of publications, on-line and in print.
Essays, Reviews, and Commentaries 

These essay, book and movie reviews, and commentaries have been published in various magazines, journals, on-line websites, blogs, and books.
---
Web Sites
Lev, A., Alie, L., Ansara, Y., Deutsch, M., Dickey, L., Ehrbar, R., Ehrensaft, D., Green, J., Meier, S., Richmond, K., Susset, F., Winters, K. (2010A). "Statement on Gender Incongruence in Children in the DSM-5," Professionals Concerned With Gender Diagnoses in the DSM