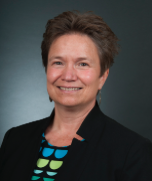 Dr. Carolyn Wolf-Gould attended Hamilton College, Yale University School of Medicine and completed her residency in family practice at the University of Rochester. She has been providing primary care at Susquehanna Family Practice since 1994 and has been offering services for transgender patients since 2007. She is a member of The World Professional Association for Transgender Health (WPATH) and is the collaborating physician for Choices Counseling and Consulting. Dr. Wolf-Gould is a WPATH clinical mentor and is committed to training health care professionals on how to include transgender health services as a part of primary care.
As collaborating physician she meets regularly with the staff at Choices to coordinate care for mutual patients. She frequently joins Arlene Lev, LCSW-R, CASAC and Acey Mercer, LMSW to provide training programs on transgender health and wellness through the Training Institute for Gender, Relationships, Identity and Sexuality (TIGRIS). She speaks regularly and at many venues on subjects related to transgender health, and has led writing workshops to explore personal experiences with gender by writing in groups. She recently completed a novel which is loosely based on her experience of learning to become a physician for transgender people and their families.
Dr. Wolf-Gould served as a Fisheries Peace Corps Volunteer in Zaire, Africa. She spent a year working in medical facilities in Ghana, Africa, and now assists in a program which supports a school in Bamako, Mali. She helped establish the Oneonta Community Health Center, a free clinic for people without health insurance, and volunteers there on a regular basis.