Working with Transgender, Transsexual and Gender Nonconforming Clients
Saturday, October 15, 2016, 8:00 a.m. to 8:30 p.m.
---
Join the Center for Professional Development in partnership with DU's Graduate School of Social Work, Gender Identity Center of Colorado, U.S. Department of Health and Human Services (HHS): Health Resources and Services Administration (HRSA), Office of the Assistant Secretary of Health (OASH), Substance Abuse and Mental Health Services Administration (SAMHSA), and Office for Civil Rights (OCR) for a one-day intensive workshop for clinicians. There will be a morning panel with an overview of Section 1557, the recently implemented nondiscrimination provision of the Patient Protection and Affordable Care Act, as well as clinical trainings featuring trans expert Arlene Lev, focused on clinical issues working with transgender adults. The advanced afternoon session will focused on emphasizing family issues with trans youth and gender non-conforming children and youth.
Location: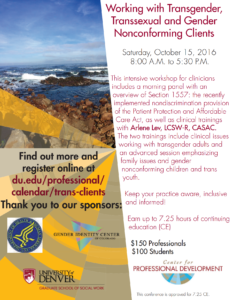 University of Denver Campus
Graduate School of Social Work
Craig Hall Community Room
2148 S. High Street
Denver, CO 80208
Time:   Registration: 7:30 a.m   Training: 8 a.m. – 5:00 p.m.
Cost: Professionals: $150      Students: (Current): $100 (must provide valid student ID)
Boxed lunches are included in the registration price.
CE: 7.25 CE credits available to attendees


---